Carl Ernst Robert Tielsch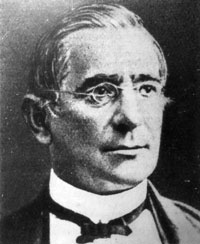 was born on 1 September 1815 as a son of an office worker and a ground property owner in the locality of Borne, the district of Neumark (Środa Śląska at present). As early as at the age of six he lost his father and was brought up by his uncle in Wrocław, where he attended the Mary Magdalene's junior high school. After his uncle's death, Carl lived with his other uncle from the side of his mother in Wałbrzych. Here, at the age of 14, he started learning at his uncle's firm dealing with wine and fabric trade. Carl gained commercial experience, which provided him with a skill to predict a decline of linen trade in Silesia. He persuaded his uncle to start dealing with financial branch of business and founding, as a firm named Ziebig & Co., the first banking house in Wałbrzych, which eventually he became a co-owner of several years after his uncle's death. As Carl Tielsch lived in Wałbrzych, he had an opportunity to observe Carl Krister's growing porcelain empire. Unfortunately, his uncle did not want to take the risk to invest in one more porcelain factory in the town, so Carl was looking for support of his friend Gideon von Wallenberg, an owner of a banking house in Wrocław. Gideon agreed to support Carl Tielsch's intentions as a secret associate. This way in 1845 almost thirty-year-old Carl Tielsch, without any experience in porcelain industry, founded one of the first porcelain factories in Silesia, which was to become one of the largest ones in Germany quite soon.
In 1849 Carl Tielsch married Maria Louisa Leupold. In 1854 their son Egmont was born.
In 1868, in the period of Tielsch's grandest professional success, his wife died. Two years later Carl married her cousin and they had three children. However, they did not combine their future with the family business.
Carl Tielsch died on 2 November 1882 at the age of 67. He was buried in Wałbrzych. After his death, the porcelain factory was taken over by his first son, Egmont. The three children from his second marriage inherited shares of the glassworks, which were sold in 1899 to a French co-partnership for the sum of one million marks.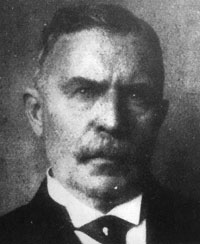 In 1888 Egmont Tielsch purchased a property with a palace in the locality of Reußendorf (Rusinowa, a quarter of Wałbrzych at present) to create a place of residence for his family. The property of an area of 592 hectares, including also a representative park, clearly proved the success of the manufacturer. The palace was commonly called Tielsch-Schloss before the war. In 1904 Egmont Tielsch became a nobleman and changed his name into von Tielsch-Reussendorf.
Egmont Tielsch died in 1930 at the age of 76. His place in porcelain factory management was taken over by Herbert von Tielsch, his son, who also supervised the family estate in Reußendorf. After World War II Herbert von Tielsch, together with his family, had to had to leave his property and move to Obernsees in Bavaria. He died in 1957 at the age of 68.